Monthly Archives:
December 2014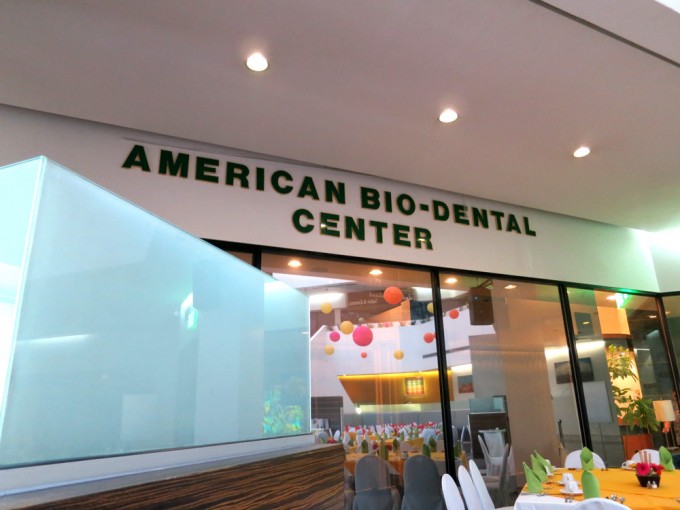 [This is a blog on my experiences travelling to and at American BioDental, a Mexican dental clinic specializing in holistic dentistry and alternative treatments for cancer, such as IV Vitamin C.]
While researching on treatment tactics for the breast lesion I was dealing with in 2012 and 2013, I found dental revision being recommended over and over as a foundation-level plank in the overall platform for beating cancer. Many self-directed cancer treatment sites even go so far as to say it may be enough in itself to clean up the dental environment to see big improvements.
When looking around for a dentist to clean up the remaining mercury mess in my mouth, I sought four things:

Simpatico. That whole feeling of likeability and ease of working together that is critical to any doctor-patient relationship, or should be. I'm not much of a yes-person and I sure don't like being dictated to, then charged for it.
Holistic. To a fault here, after years of having leaking mercury in my mouth, not by choice and which were never vetted as compatible with me…and, ummm, mercury isn't compatible with…humankind.
Qualitative. I wanted the best material my money could buy – and the least harmful, aka the most biocompatible. Anything being permanently placed in one's mouth will certainly affect overall health. Profoundly.
Affordable. I live in the US and own a body. Need I elaborate?
After much research and talking to various people, I chose American BioDental Clinic, located in Tijuana, Mexico. They hit favorable notes for all four of my requirements – whenever I called them, they happily explained everything and answered all my questions, including border-crossing options and then some. They specialize in holistic dentistry, including the removal of mercury, and I'd been in touch with several fellow survivors who'd gone there and reported success.
When I visited their website, I saw very reasonable pricing, and even more importantly, right out there for all to see. No having to call around and hear about payment plans that would have me in hock for years to come in the Great American Transfer of Wealth for Healthcare. And when I got there, I saw that yes, their facilities were top-notch and yes, they used the best materials on the market for their patients – even encouraging them to get a biocompatibility test if they were dealing with cancer (my results).
After the initial intake and panoramic x-ray, I was told I had 23 teeth that needed work, including new fillings, replacement fillings, several inlays and a surgical mercury tattoo removal, so not being too much of a glutton for punishment, I arranged the work to be done in two parts. Later that day, the right side of my mouth, top and bottom. Several weeks later, the left side. And then a third, very short visit for a quick follow-up on one problem tooth the dentists at the clinic saved with their excellent work, but told me to keep an eye on.
While under the drill, I also had Vitamin C IV drips – 50 grams each time – well-known to be extremely helpful for the immune system and a great treatment for cancer. Additionally, IV Vitamin C has the benefit of keeping re-exposure to heavy metals to a minimum while dental work is being done.
In my case, there were a lot of mercury tattoos left from half-assed amalgam removals not done safely or completely (but very expensively!) in the US back in 2008. After those, I'd thought – I'd hoped – that my problems were over. But they weren't, as evidenced by ongoing cancerous lesions on my skin and left breast. Since there was still mercury residue in the form of grey-colored areas on my teeth and gums, along with loose fillings and cracks, the effects were still playing out in my system to my detriment.
Dental work and detoxes were in order, as soon as possible and within a reasonable budget, because it seems patients in the US are out of luck in getting mercury-related dental revisions paid for by the system that visited them upon us all. It would be akin to an admission that there was a problem, which I can only guess is a real no-no. It was only fitting that I took my business elsewhere.
So, on to the nitty gritty details about my trip(s) down under the USA's southern border…
Crossing the Mexican border. I park and walk across, and for this, I take the 805 south to San Ysidro – the "LAST US EXIT" – the signs are very clear and say just that. At the end of the off-ramp, hang a right, go down the little hill, and what I usually do at the first intersection is make a right, then another quick right straight into a pay-as-you-go parking lot (last known cost: $7 per day). Park, and then you can either walk to the border crossing, or pay for one of the many rickshaws, etc., that come around looking to help out (plenty). I just walk it, it is not that far, and I don't usually have more than a backpack.
Walking out of the parking lot toward the Mexican flag…which is right under the American flag in my pic…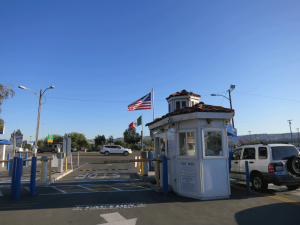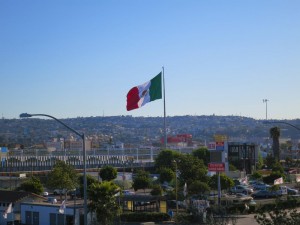 Once out of the lot, cross the street and hang a left to the intersection (pictured below), where you'll cross the street using the crosswalk (shown below). After crossing, go straight…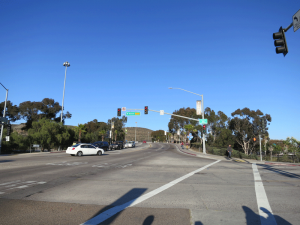 You'll come to the pedestrian bridge that takes you back over the 805. You'll see other people going where you want to go, so just follow them across the highway 🙂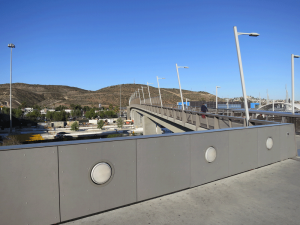 You'll come to a set of stairs, and at the bottom, go to the right and walk toward the train station area:
You'll also see busses and lots of people, taxis and the like. The walkway to Mexico goes in between two buildings, then behind them and to the right. There'll be plenty of others walking this route, and you'll see this: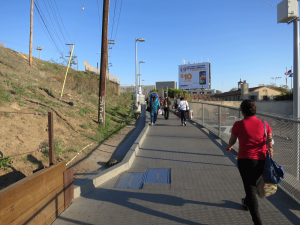 …and then you'll see this…
…and then you'll see that all the jokes are true: There really is a revolving door between Mexico and the US, lol! Two, in fact…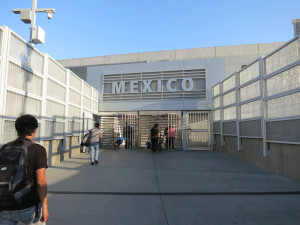 The revolving doors are the way to the "customs" area – and I put this in quotes, because it's pretty basic – it is just a couple of revolving doors under the "MEXICO" sign (see the image above) that lead you into a small room where (sometimes) your bags are checked and (most of the time) you will see a member or two of the Mexican military standing guard as you exit.
After you exit customs, you'll cross over the same highway in the other direction – and be warned, the path is just as circuitous as on the American side – to the taxi cab area. Per my previous advice, follow the crowd, they will lead you well. And note one of the first things you see on the Mexican side is a big pharmacy. Supply and demand. Go figure.
The taxi ride to the Grand Hotel Tijuana, where I usually stay when I have an appointment at American BioDental, is around $7 – 10, and takes around 10 minutes.
At the Grand Hotel Tijuana. This is a veeeerrrry niiiiiice hotel. You'll pay the same for a shithole in LA, and with that, you'll start to learn why over a million Americans call Mexico home. The rooms are very nice and clean, have great bathrooms, and if you're on one of the upper floors, you'll have a fantastic view to boot. They have a very nutritious morning buffet, with complete proteins like eggs, chicken, beef, etc. You will not starve.
The water. Okay, had to get to this, and I'll say this first: I drank the water freely on my first visit, and a few days later, had the most thorough and inexpensive full-body detox I ever had. Otherwise known as Montezuma's Revenge. Not very pleasant, but all-inclusive to a fault. The next few times I went, I was more careful, and I took a strong probiotic called Primal Defense with me. I think Saccharomyces Boullardi would also work well, just make sure to take enough of it. There is filtered water in the rooms, as pictured below: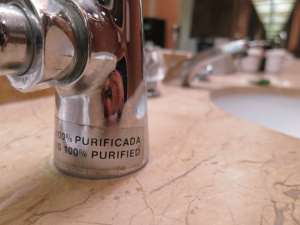 But…you know how it goes: Somehow, something always goes awry. The tea water isn't quite boiled long enough to kill everything. Or, you brush your teeth and forget to use the filtered water. So I'm careful, and at restaurants, I usually order a mineral water called Ciel – it is canned and entirely (…uhhh, at least as far as canned drinks go) safe: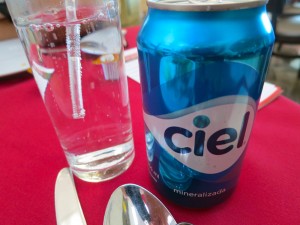 Going back to the US (do we have to?). One of the Alessandros, aka either American BioDental's head doctor or his son, usually drives me and a few others back across the border. They usually leave once or twice per day, and this is VERY preferable to walking back across, as they have frequent crosser permits and it's usually pretty painless. Take my word for it: Crossing into Mexico is a piece of cake. Crossing back into the US is an overblown exercise in paranoia. Go, and you'll see for yourself.
Yours in Good Health,
Alison