Resumes
"The greatest good you can do for another is not just to share your riches but to reveal to him his own."


– Benjamin Disraeli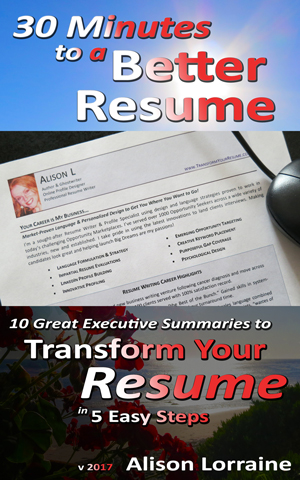 As a resume writer, I get to word and structure the short document that can make or break someone's future. My talents in this area include the ability to quickly distill and craft someone's entire personal and professional history into a beautifully designed, fast-reading resume that sells its subject very effectively. This is not only a passion, but a labor of love and a privilege. We all need help in stepping up our game to where we think it should be, and I am thankful that so many people have trusted me to help make their lives better.
Having written over 1000 resumes for mostly mid-career technical executives and professionals as well as ebooks for do-it-yourselfers, I see myself as one who reveals, in aesthetically-pleasing layout and strong market-proven language, the talents of my clients to whomever their chosen audiences are, with the undiluted goals of landing the interview and the gig.
The majority of my resumes are two full pages, but the sample below happens to be a one pager for someone with a six-year career history that illustrates the before-after of what I can do for you at a glance:
My talents – my riches, as Mr. Disraeli calls them – involve gathering your information and capturing the truth of your essence, at the same time employing those pragmatic market-proven language and layout elements that make you and all you've done resonate with your audience.
What I never do: Tell someone else how to feel, or that they should be happy where they are. The Wright Brothers didn't stay on the ground. My grandparents left their country of origin. People change jobs all the time – all in the name of seeking and doing better. This is the natural progression of any life worth living.
Process – Once you've placed your order, I'll be in touch with you directly to request your current resume, CV and/or other career-related information. We'll schedule a phone chat where I ask and/or email you very specific questions based on your info. After I receive all required information and answers to my questions, you'll receive your resume draft in 48 – 72 business hours. From there, we'll collaborate to edit and refine your resume into a final version, which will not extend past 7 additional business days from the date of delivery of your draft.
Cover letters – If you order a cover letter, it will be very highly targeted with language specific to you and your situation. I don't use templates, because anyone with an opposable thumb can find and download one, so I prefer to aim much higher in the effort to increase your odds of getting the interview.
Small Print – Please note that any unanticipated service requests or changes after your order is placed, along with any specific rush deadlines, extended work time, special design features, or addenda, including portfolio items or lists of publications, performances, etc., are all billed as extra items over and above the prices listed here. All additional charges are dependent upon complexity and time commitment, and will be mutually arrived upon and confirmed in writing, with all related work commenced upon receipt of payment.
Guarantee – If your resume (and/or cover letter) fails to get you one single interview after a diligent job search of 6 months, I'll do them both over again. Gratis! By "diligent" I mean you've sent out more than 30 resumes per month or networked and handed out just as many. TIP – Remember to find out the name(s) of the specific person(s) you need to address, along with researching them, their company or organization, and how you see yourself fitting in :-)…just a little learning about your targeted opp will make their day, especially in this impersonal digital era, believe me!
Outreach – I also offer, as part of my personal Outreach program, one free resume per month to someone truly in need of a small hand up, in return for my being able to use it online and/or in my resume writing books. Contact me with your story for consideration, and if you are chosen, please pay it forward as soon as you are able!
For ebook Readers – Those of you who are looking for the free templates that go with 30 Minutes to a Better Resume, get 'em here!